Wally Panther #2, Don't Trust Newspapers
---
Vote Wally Panther !
Wally's Core Values #2: Don't Trust Newspapers (Satire).
Produced by Christian Monzon.
Written and Directed by Adam Fike.
Filmed by Peter Castagnetti.
---
INT. WALLY'S HOUSE – DAY
Wally smiles into the camera.
WALLY: Hello. My name is Wallace Panther.
He takes a drink of water.
WALLY: And these are my Core Values. Number two. I don't trust newspapers. And you shouldn't either. I don't trust television news. Or generally what people tell me in person. Only radio. And not F.M., that's for sure. And even then only the stations from billboards that clearly say they are going to tell me the truth.
A photo of a billboard reads: "KCON – News & Talk A.M. 530 – We never let 'facts' get in the way of the REAL story!"
Our Blog (clips, essays and fun stuff from around the web)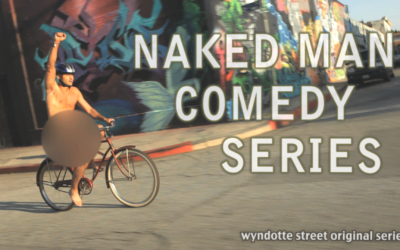 Naked Man . . . Now Streaming On Amazon! In A World Full Of Danger, A Hero Arrives. Trapped elevator riders, bank robbery hostages, a lost love, a street full of onlookers. All asking the same question: But why is he naked? Click HERE to check us out  . . . or search...
read more