Wally Panther #4, Government IS The Problem!
---
Vote Wally Panther!
Wally's Core Values #4: Government IS The Problem! (Satire)
Produced by Christian Monzon.
Written and Directed by Adam Fike.
Filmed by Peter Castagnetti.
---
INT. WALLY'S HOUSE – DAY
Wally smiles into the camera.
WALLY: Hello there. My name's Wallace Panther.
Wally takes a drink of water.
WALLY:  And these are my core values . . . Number four. Ronald Reagan said, "Government is not the solution to our problems. Government is the problem." And you didn't see him making the government any bigger. Am I right? Or our debt for that matter. The man was a saint. So cut it out already, Government. All we need Government for is police and roads. That's all. And wars. And I guess traffic laws too. With the roads, I mean. And to make sure planes don't crash. But that's all. Of course, you can't sell rotten meat to school children. There are real monsters out there. So just that. Laws, transportation, defense, schools, health. And zoning. Our home owners association is suing this guy at the end of our block who built a deck that's WAY too big for his house. You can't see it from the street, but it's the principle of the thing, that's all we're saying. Any government beyond that is socialism. And as we all know, socialism is a living hell. Don't take my word for it. Just ask Sweden. Much like you, I truly hate government. And that is why my personal dream is someday to be elected to public office. 
---
Our Blog (clips, essays and fun stuff from around the web)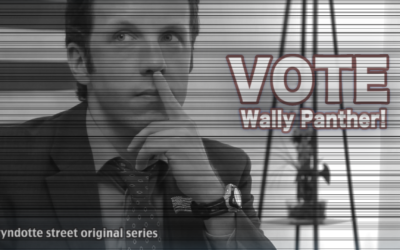 Vote Wally Panther . . . Now Streaming! Join Candidate Wallace Panther as he brings his core values to Amazon. The misguided product of AM radio and wealthy grandparents, Wally wants your vote. Office to be determined. (Satire) Click HERE to check us out  . . . or...
read more