I'm@Work, The Efficiency Expert
---
I'm@Work – The Efficiency Expert.
Sketch Comedy featuring Brigett Fink Levine, Barnaby Gallagher, Christopher Gardner, Ashley Harris, Alessandro Mastrobuono, Christian Monzon, and Brian O. Robinson.
Written and Produced by Christian Monzon and Adam Fike.
Directed by Adam Fike.
Director Of Photography, Mark Ryan.
---
INT. OFFICE HALLWAY – DAY
COWORKERS gossip in the hallway.
WORKER #1: Efficiency expert. That's all I heard. Bet they fire people next.
Now, suddenly beside them, is a GRINNING MAN, standing way too close.  Uncomfortable, the Workers disperse.
EXT. OFFICE BUILDING – DAY
Coworkers gather at smoker's corner.
WORKER #2: We don't need somebody telling us how to do our jobs.  Suddenly beside them is the Grinning Man. Uncomfortable, the Workers head back to their desks.
INT. OFFICE BREAK ROOM – DAY  Coworkers meet around the coffee machine.
WORKER #3: Look. Whenever this so-called expert gets here . . .  Again, the Grinning Man appears. Confused, they head back to their desks.
INT. HR OFFICE – DAY  HR PERSON #1 hands a check across the desk to the Grinning Man.
HR PERSON #1: Worth every penny.
HR PERSON #2: Now if we can just get them to stop making personal calls . . .  They laugh. The Grinning Man stares back at them.
HR PERSON #1: Right. We better get back to work.
---
Our Blog (clips, essays and fun stuff from around the web)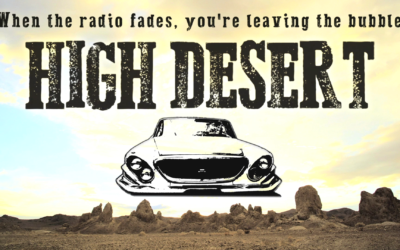 It's is a Western, with cars instead of horses . . . HIGH DESERT IS: Bare-knuckle fist fights. Big engines. Long, straight pavement. Horsepower. Detroit steel. Great, big skies. A hero not afraid to take his cut. An isolated community that likes it that way, where...
read more