---
I'm@Work – Company Plan.
Sketch Comedy Featuring Dick Beck and Derek Carter.
Produced by Christian Monzon.
Adapted from an old joke and directed by Adam Fike.
Director of Photography Mark Ryan.
---
INT. LUNCH ROOM – DAY
WORKERS eat their sandwiches. One has an arm in a sling.
WORKER #1: Can't go to the doctor. Company only covers three visits a month.
WORKER #2: So?
WORKER #1: So, I found out my girlfriend had Friday off. I wanted to do something extra special. Figured I'd go in and get some viagra.
WORKER #2: Really?
WORKER #1: Yeah. And then I found out her sister was going to be in town the next night. So I went back in to get some more.
WORKER #2: Right. But that's still just twice.
WORKER #1: Almost forgot my wife was coming back from her mother's on Sunday.
WORKER #2: Right. Of course. They chew for a long moment.
WORKER #2: Wait. So how'd you hurt your shoulder in the first place?
WORKER #1 None of them showed up.
END
---
Our Blog (clips, essays and fun stuff from around the web)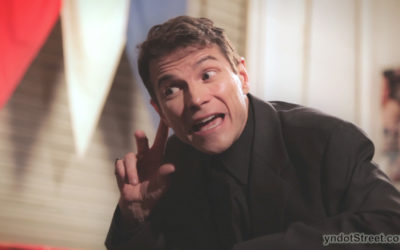 Billy Tupper Episode #1 Let's Meet Our Rabbit . . . A local mob boss meets trained killers in a dark fighting gym. It's an initiation of sorts. First to beat Billy Tupper to death wins. Join Billy, the world's sweetest, dumbest, most enthusiastic fighter as he goes...
read more